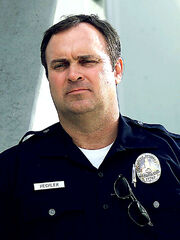 Ray Hechler (played by Gary Basaraba) is an experienced Los Angeles Police Department officer. He finds himself under pressure as a result of the Vista Heights police corruption investigation, which convicted his former partner. We never find out for certain if Ray was involved himself but he tells his partner Tom Turcotte that he is a victim of "guilt by association".
The Vista Heights scandal places Ray at odds with deputy D.A. David McNorris and investigative reporter Andrea Little. McNorris leads the prosecution case, while Andrea covered the story for the Los Angeles Tribune, and both have the power to end Ray's career. There is also some tension between Ray and Detective Joel Stevens, who seems to suspect Ray is dirty. However, Ray sticks up for Joel when Internal Affairs reopens an investigation into the death of Joel's baby.
Ray loves television, and one of his favourite programs is a short-lived cop show called Insured By Smith & Wesson which inspired him to become a police officer. Ray has a wife, Cherie.