Bobby Roth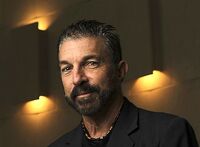 Profession
Motion picture director, producer, and writer
Last
"Reelin' in the Years"
Bobby Roth
, born 1950 in the USA, is a motion picture director, producer, and writer. He was an episode director for the
first season
of
Boomtown
, helming the episode
Reelin' in the Years
. He has also worked on
Lost
,
Fringe
, and
Numb3rs
.
Biography
Edit
Earlier career
Edit
Roth studied philosophy and creative writing at the University of California, Berkeley. He earned his Bachelor of Arts degree in Cinema at the University of Southern California in 1972. He continued his education at the University of California, Los Angeles enrolling in the Master of Fine Arts program and received his graduate degree in motion picture production in 1975. In the following year, he wrote, produced and directed his first film, Independence Day (1976).
Since then, Roth has written, produced, and directed dozens of television episodes and feature films. His 1984 film Heartbreakers was entered into the 35th Berlin International Film Festival.
TV series he worked on include, Miami Vice, Crime Story, and Dr. Quinn, Medicine Woman.
He joined the crew of Boomtown as an episodic director for the first season in fall 2002. He helmed the fourth episode "Reelin' in the Years".
Later career
Edit
He went on to direct episodes of Numb3rs, Commander in Chief, Without a Trace, New Amsterdam, Raising the Bar, Criminal Minds, Prison Break, Lost, FlashForward, Fringe, Life Unexpected, V, The Mentalist, Revenge, and Breakout Kings.
Personal life
Edit
Roth has one son, Nick Roth, an actor.
Season 1 credits
"Pilot"
"Possession"
"The Squeeze"
"Reelin' in the Years"
"All Hallow's Eve"
"The Freak"
"Insured by Smith & Wesson"
"Crash"
"The David McNorris Show"
"Coyote"
"Monster's Brawl"
"Sinaloa Cowboys"
"Home Invasion"
"Execution"
"Storm Watch"
"Fearless"
"Blackout"
"Lost Child"
External links
Edit