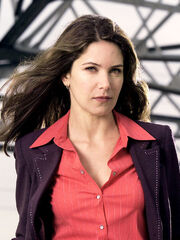 Andrea Little (played by Nina Garbiras) is a crusading reporter for a newspaper called the Los Angeles Tribune. She comes from a wealthy family and once attended the prestigious Montridge Academy. Her father is an alcoholic and she uses her mother's maiden name, although she is not close to either of her parents.
About four and a half years before the series began, Andrea was working for an alternative paper called the L.A. Weekly when she began campaigning on behalf of Kevin Van Horn, who had been wrongly convicted of killing a cop in 1976. She met David McNorris from the District Attorney's office, who worked with her to try to reopen Van Horn's case. Her articles about Van Horn resulted in her getting her current job at the Trib. However, six months before the start of the series, Andrea and McNorris had exhausted all possible avenues.
Around this time, Andrea wrote a profile on McNorris for the Sunday Magazine and the two of them began an affair together. Andrea ended the relationship at Halloween.
Andrea appears to have several confidential sources, including McNorris and people within the police force. She keeps a gun in the refridgerator and another in her bedside drawer.